Join us on Wednesday, February 16th at 6pm while we celebrate the second full moon of 2022 with a low-key and casual fun run under the (hopefully) beautiful winter evening sky during the "Snow Moon."  This is an un-timed fun run.  

We will have a suggested 5k route in the South Hills Malls parking lot but the distance for this event is completely flexible.  Those who are doing the 5K will complete about 3 laps around the parking lot but participants can opt to do 1, 2 or 3 (or more!) laps.  
Night gear is required to participate in the run or walk including a light to help you see where you are going (head, waist or wrist) as well as something that flashes and will help to identify you as a runner to drivers for safety.  It would ideally be a light-up vest or xinglet, but a small inexpensive clip-on blinker attached to your clothing will work also.  
The cost of this event is $30 per person and each registered participant will receive amazing GLOW IN THE DARK (!) SWAG! Both the shirts & the handmade custom finisher's medal are glow in the dark.  All participants will also receive a black & white cookie (to go) after the event.  The shirts are 100% polyester hoodies.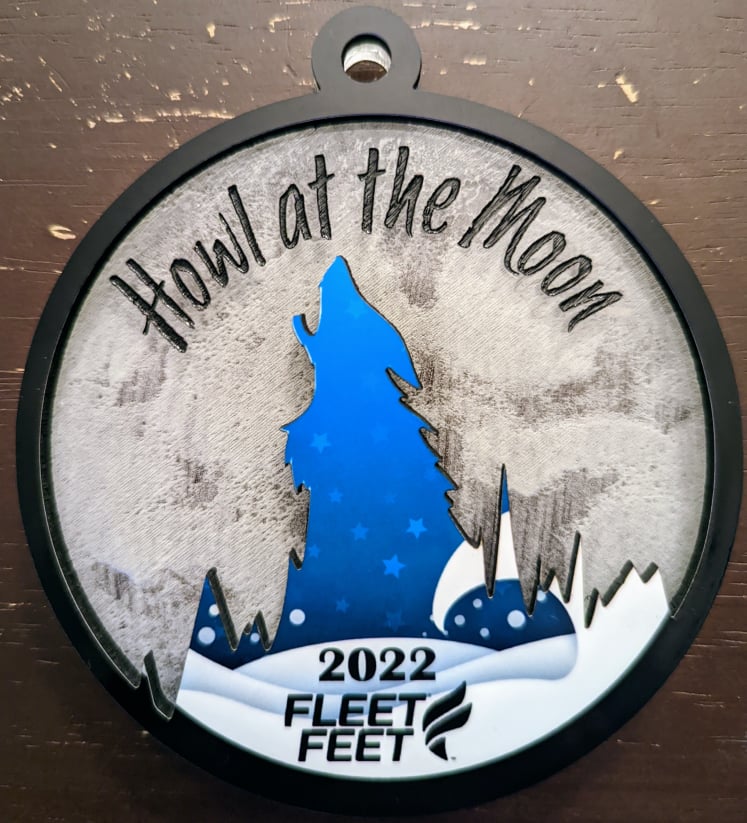 Registration is for this event is online only, there are no in-store sign-ups.  Space is limited, don't wait to sign up and miss out! 
Runners & walkers of all paces are encouraged including those who are curious about nighttime running.  The run will take place in the South Hills Malls parking lot.  The run course is open to traffic and due to safety concerns this event is not suitable for dogs, strollers or small children.  The use of headphones is strongly discouraged and we promise that you will be having so much fun, you definitely won't need them!  
We will send out a pre-run email by end of day on Saturday 2/12 with any other pertinent details about the event.  Please register with a valid email address that you check or you will miss this communication.  Please be aware that we recently uncovered an issue where our emails are being blocked by the hotmail server.  If you have a hotmail email it is very likely that you will never receive the pre-race communication.  You can either change your RunSignup account to a different email OR send us an email at info@fleetfeetpoughkeepsie.com anytime after 2/12 and we will reply with the email details.  
FAQs:
I registered for the January Howl at the Moon event but was unable to attend, do I need to re-register?  
You don't need to re-register and you can just show up to the event on 2/16.  For those who registered for the January event, your SWAG is available for pickup at Fleet Feet anytime.  

Is there a minimum age to participate?  
The route is open to traffic and this course is therefore not suitable for small children.  Please use your best judgement when registering minors for this event.  
Can I bring a stroller or a dog on a leash? 
We are not able to accommodate dogs or strollers at this event.  
Do you have a course map?
The run is around the South Hills Mall parking lot.  If you are looking for more information beyond that, this event probably isn't for you ;)
Is there a wait list if the event sells out? 
We will not have a wait list for this event.  We have only enough medals as open registration spots and those who register but cannot attend will still get their goodies.  
I signed up but can't attend, can I transfer my registration? 
Yes!  Since this is an un-timed fun run you can transfer your registration. If you are reselling your space, you would handle that on your end, we don't resell spaces.  Also please note that shirt sizes cannot be adjusted as shirts are ordered at the time of registration.  
Can I participate virtually? 
While we aren't offering SWAG shipping for this event, participants do have the option of registering and completing the run virtually if they would like (there won't however be any virtual dashboard) and then picking up their SWAG at Fleet Feet anytime (normal business hours) after Wednesday 2/16 at 6pm.    
Is there a rain or snow date should there be bad weather? 
The run will happen even if it rains or there is light snow.  We will only cancel the event if the roads conditions were very poor for driving.  Should this happen, participants should pick-up their SWAG at Fleet Feet anytime after Thursday 2/17 at 10am and just complete the run virtually.  
Will there be any water on the course?
There won't be any water provided.  You should bring whatever you think you will need.  
Will SWAG be available for pickup before the event?  
As of right now we are planning to have everything ready for pickup at the start of the event on 2/16 at 6pm.  Should this event sell-out and we are able to have everything ready for pick-up early, we will communicate this to participants.  

Will there be a gathering after the event?  
We are going to give everyone their black & white cookies "to-go."  Participants are welcome to hang out outside the store after the event but since we anticipate a fairly large event, we kindly ask that everyone doesn't congregate inside the store.  Due to the recent surge in Covid-19 cases, we are trying to avoid large crowds inside the store.  If you wish to come into the store to shop you are of course welcome to do so but please wear a mask.  


Subscribe to track & get notified of any updates to this activity (each activity requires a separate subscription/submission).